Alexander Noel's Top Men's Gifts to give for the Holidays
Well this is the second year I am making some suggestions for the man who has "everything."
My criteria:
1) What are some unique things you can purchase for your friend that will give them a smile as it directly ties into a passion of something they like to do.
2) You can order the products online
3) You can add a dash of dapper and class into what you receive as a gift
4) Last but not least, it's something I really like. So here goes…..
Number One: Golf Balls Whiskey Chillers ($24.50 USD) Retailer: www.uncommongoods.com
My friends and cousins are all big time golfing fanatics and I have played golf with most of them. They are constantly thinking, eating, and sleeping golf. We have gone on trips where when we meet ---all that we do is play golf (and of course, drinking at the golf club).
So for my first gift (please note there is no priority order to these gift choices) keep your eye on the golf ball with these totally sport appropriate and practical Golf Ball Whiskey chillers. Your golf game is never watered down, so why should your whiskey be? Celebrate another successful day on the green or treat your favorite sports enthusiast with these golf ball-inspired chillers. The set is packaged in a handcrafted, giftable wooden box, and is sure to become a summer (or, let's get real, any season) essential in your bar setup. The chillers are made in China and the wooden box is handcrafted in Minneapolis, Minnesota by Darrell Kramin and his team
Number Two:

St Croix Light weight sweater knit polo ($285.00 USD on sale for $199.00 USD)

Retailer: www.stcroixshop.com
The shirts come in a variety of colors and striped styles. You just can't go wrong. I need a good rich red color. That one, that I will buy myself!
I am frequently travelling and commuting, visiting my mom in the Midwest and having to do business traveling to Europe for Alexander Noel. The excitement about travelling for me has transitioned to being laser focused to get on the plane and arriving to my destination as quickly as possible.
While travelling, I want to be comfortable. I had the opportunity of learning about a company in the Midwest called St Croix Shop. I simply fell in love with the most comfortable shirts called the St Croix Light weight sweater knit polo. These shirts are a blend of 80% cotton and 20% microfiber that allows for flexibility without the wrinkles. The collars have a special knit in collar stay to ensure a perfect look as well as a banded knit waist and knit cuffs. They are washable and made in the USA.
I purchased three of these shirts and plan to buy more this holiday for myself ---that is, if no one gets one for me. St. Croix Shop brand is a luxury fashion line and is featured in ten shops located in premier shopping areas throughout the United States.
Ok……so maybe I don't look as smooth and sharp as Ryan Reynolds, but I bet you will look damn near close as humanly possible
Number three: Echo Show - Black ($149.99)Retailer: Amazon
If you're like me, then you are kinda of guy that must have the newest and greatest in "cool things."
Ok maybe it's a flashback of when I was a little boy, waking up to get the very cool toy which usually was some technical thing-a-jig. Even my son getting the newest X-Box (I surely played more on the X-Box than he did because I made him go to bed).
Life for a guy like me on a holiday simply would not be fun if I did not have something to tinker with. Let's face it, I suspect I was right based on an old study that was done, from Russel Research indicated that Video games, and small electronics will be the fourth and fifth items on buyer's behavior that will be looked at and purchased during the holiday. Gift cards are number one. The Amazon Echo Show is the best technical gift of them all. The Echo brings with it a new way of getting things done without raising a finger.
I will go as far to say that it makes life easier, and its' putting the new revolution of technology right in your house. "Alexa can actually show you how to do things instead of just telling you! Watch your video flash briefings, listen to music, or watch videos, enjoy hands free face-to-face calling, hook it up to your home security cameras or monitoring systems and simply ask Alexa to "show you the front door" to see who's there. It can basically do everything that older echo could do, but now way more!"
Number Four: Alexander Noel Gift Card – 50% off the dollar amount Retailer: www.shopalexandernoel.com
Have you hit a wall not knowing what to purchase for the man who has everything? First off, the concept of purchasing gift cards is a way to shifting the buying power to the man who has everything.
Alexander Noel has a wide selection of street athletic shoes, casual style to dress shoes online. We also have the ability for you to create your own perfect shoes (or perfect for your guy) with Alexander Noel Deluxe Design Tool.
I really believe the gifts cards for the Deluxe Design tool is the perfect solution, because your special guy who receives the gift card can go wild at the opportunity to create every inch of the style, leather, fabric, sole, welts to suit their unique style. More importantly, when you purchase a $100 gift card, you only pay 50%. This means you are getting so much more for your money to find another gift for that man – who has everything.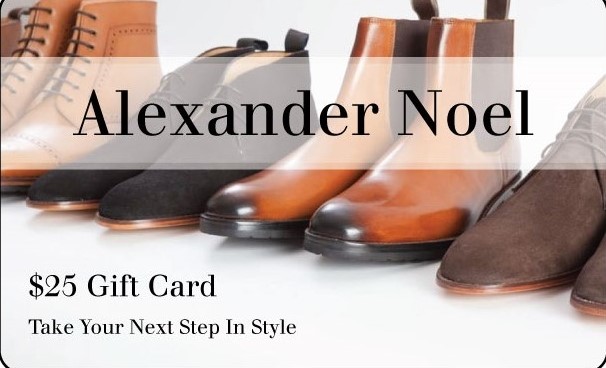 Simply add code: Giftcards50 and to skip the gift card and go straight to the Design tool: Use code: ANDesign40 for 40% off
Any one of these great gifts, you will not go wrong.
My personal preference will always be the gift cards and creating my own shoe on the design tool, but of course, the St. Croix polo style long sleeve in red, I would not be a disappointed.
On behalf of the Artisan Designers and creators around the world, our customer service and regional sales folks, I want to thank you and wish you all have a great holiday with a very heavy focus for peace on earth.
Take care everyone,
Alexander Noel