A Timeless Journey: The History of the Jodhpur Boot (6-minute read)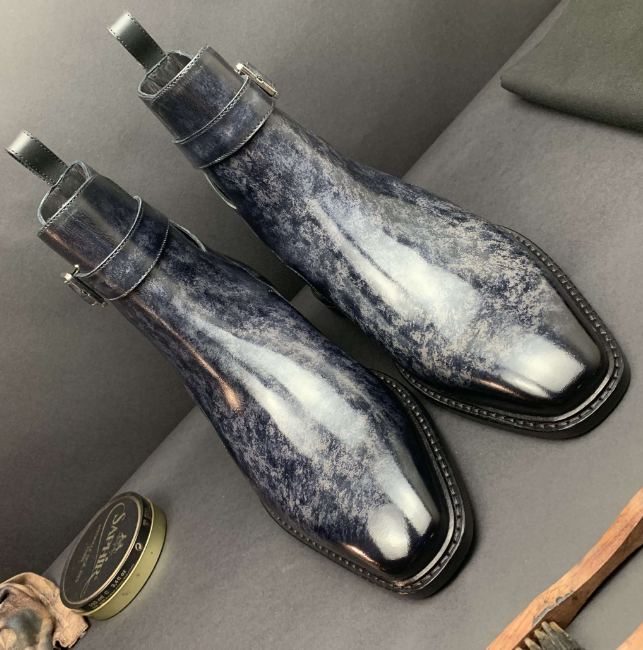 In fashion, certain styles never wane in popularity, maintaining their timeless allure throughout the ages. The Jodhpur boot is undoubtedly one such icon, boasting a captivating history as illustrious as its design. At Alexander Noel, our passion for high-quality footwear fuels our eagerness to explore the intriguing heritage of the Jodhpur boot.
The Birthplace: India, 1920
The Jodhpur boot's name draws its inspiration from the city of Jodhpur, nestled in Rajasthan, India. This boot was inaugurated in the 1920s when polo reigned supreme among British officers stationed in India. The Jodhpur boot was conceived to deliver practicality and comfort during intense polo matches, forging its distinct identity.
The Elegance of Design: Versatility and Poise
Famed for its streamlined elegance, the Jodhpur boot typically assumes a low, ankle-high silhouette, featuring a gently rounded toe. Its hallmark feature is an adjustable leather strap that gracefully winds around the ankle. This strap adds a dash of style and ensures a snug and secure fit.
A Global Sensation: From Polo Grounds to High Fashion
The Jodhpur boot transcended its initial role on the polo grounds with aplomb. The marriage of style and functionality swiftly endeared it to equestrians and sartorially astute individuals looking for a boot that harmonized practicality and panache. Over time, the Jodhpur boot found its way onto fashion runways, into cinema productions, and gracing the feet of style luminaries worldwide.
Pitch Heel
Elevate your style with the pitch heel on our Jodhpur boots (see above). This subtle yet striking design feature not only adds a touch of sophistication but also provides the perfect balance of height and comfort. The pitch heel is a timeless element that complements the classic charm of our boots, making each step you take a statement of refined elegance.
Modern Interpretations: Alexander Noel's Vision
At Alexander Noel, we highly esteem the classic Jodhpur boot, recognizing its ageless charm. While preserving its timeless design, we've infused contemporary elements and craftsmanship to create a boot that resonates with the sensibilities of today's discerning fashion enthusiasts. Our Jodhpur boots are lovingly handmade from the finest materials with meticulous attention to detail, offering sleek leather uppers, plush insoles, and durable outsoles. In doing so, we've reimagined the classic Jodhpur boot for the modern era.
In Closing: Celebrating Tradition and Elegance
The journey of the Jodhpur boot through the annals of history is a testament to its enduring appeal and adaptability. It has gracefully transitioned from the polo fields of India to the world's most illustrious catwalks. At Alexander Noel, we take pride in contributing to the legacy of this timeless footwear and present a contemporary twist on the classic Jodhpur boot, where tradition meets modern refinement.
In our collection, you'll encounter an array of Jodhpur boots that pay homage to the past and embrace the future. Honoring tradition while innovating in leather and fabric textures, with the help of our creative customers, we're introducing distinct styles under Alexander Noel for the Jodhpur boot. Join us in commemorating this enduring classic and step into a world of sophistication and elegance with Alexander Noel's Jodhpur boots.
To Purchase or Design Your Own:
We're excited to offer you the opportunity to own a pair of Jodhpur boots that reflect your unique style. At Alexander Noel, you can conveniently purchase online or embark on a creative journey to design your own Jodhpur boot. Choose from a diverse selection of fabrics, leathers, soles, and more, and craft a pair of uniquely yours boots in our Design Lab. Please explore our website and discover the possibilities!