Introducing Waxed Suede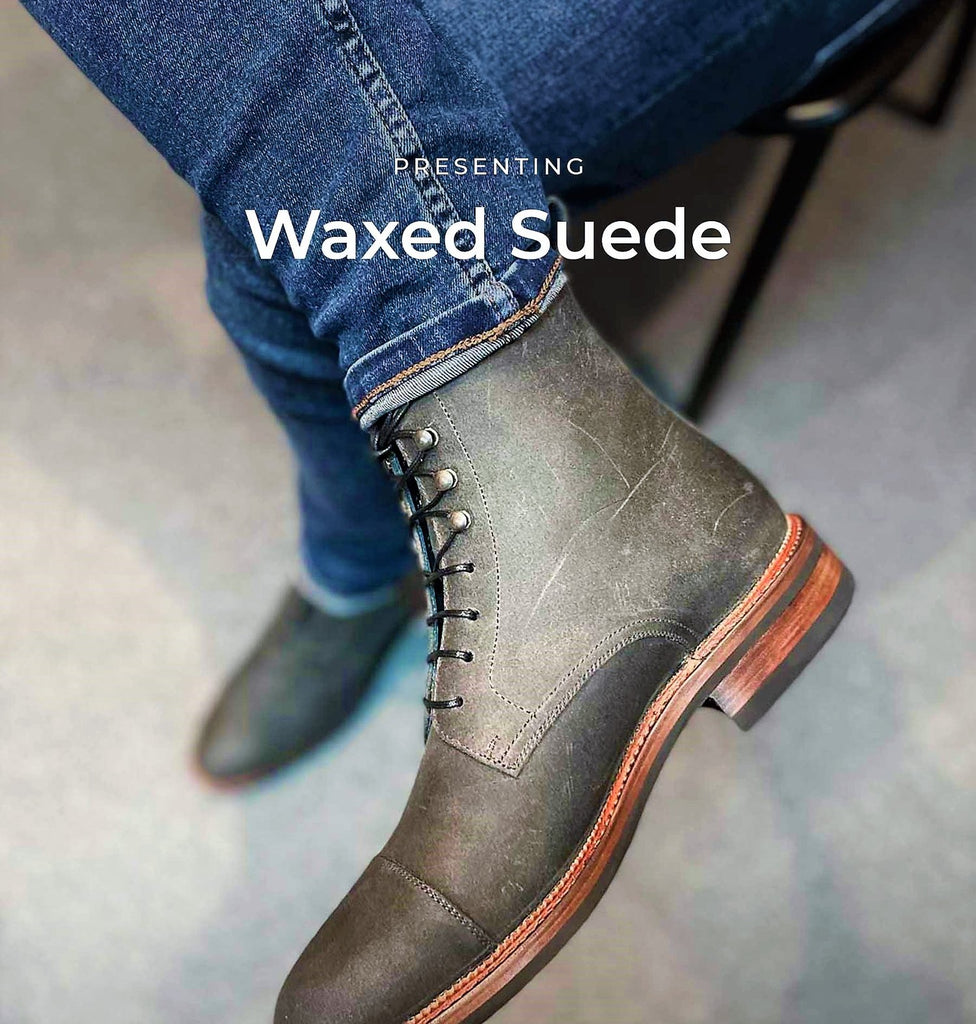 Introducing the latest addition to AN's Men's and Women's(Boots) Design Lab--- Waxed Suede leather.
 Waxed Suede represents a leather of unparalleled quality, meticulously treated to not only withstand the test of time but also to exude an effortlessly chic and laid-back aesthetic. When you don a pair of shoes crafted from this exceptional material, you're embracing a truly distinctive style statement. The leather is not only richly dyed but also inherently waterproof, making it a practical choice for those who appreciate both fashion and functionality.
This extraordinary leather is the result of a harmonious fusion between resilient, compacted fiber leather and a time-honored tanning and waxing process known worldwide for its excellence. In essence, it's engineered to endure the harshest of conditions while simultaneously flaunting a weathered yet sophisticated charm from the moment you lay eyes on it.
As you continue to wear your waxed suede leather items, a fascinating transformation unfolds. Subtle undertones gradually emerge on the surface, adding depth and character to your possessions. The wax, an integral part of this leather's identity, ages gracefully along with it, contributing to its distinctive allure.
What sets waxed suede leather apart from its counterparts, such as traditional waxed flesh or waxed finish leathers, is the comprehensive nature of its wax treatment. Rather than being confined to the surface alone, wax is seamlessly integrated into both the tanning process and the leather's exterior. This dual-wax treatment serves as a formidable barrier against moisture and the elements, effectively safeguarding your feet from discomfort and ensuring your footwear remains as reliable as it is stylish.
You can explore the world of Waxed Suede in a palette of four rich and versatile colors: Brown, Green, Black, and Grey. Whether you're seeking that classic earthy appeal, a touch of nature-inspired green, a sleek and sophisticated black, or a subtle yet contemporary grey, there's a shade to suit your unique style and preferences. 
Waxed suede shoes offer a degree of weather resistance, making them suitable for various seasons. Put your skills to the test and design your own collection of waxed suede products online. You can find the waxed suede option in Goodyear or Blake construction.