The Many Leathers & Fabrics of Alexander Noel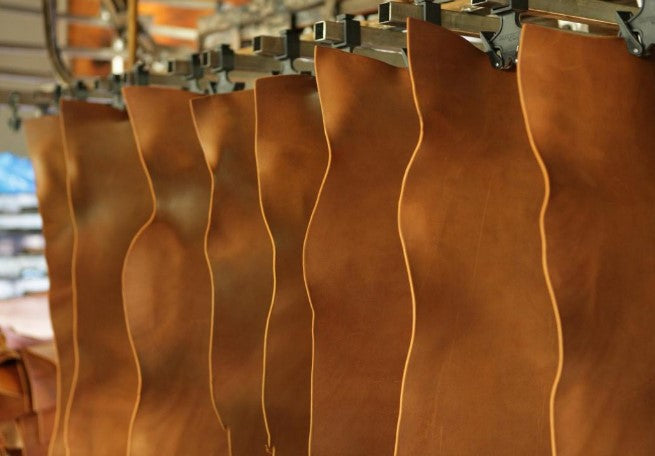 Our Raw MateLrials   
Leather serves as the fundamental cornerstone in crafting all men's and women's shoe, demanding an expert level of craftsmanship throughout its production. A universal principle guiding the creation of high-quality men and women footwear asserts that the greater the level of processing applied to the leather, the greater its overall quality becomes. Naturally, this elevated quality corresponds with an increased cost. Approximately 47 percent of the expenses incurred in crafting a shoe are attributed to the premium cost of the raw material.
Our calf tanneries come from Northwest Spain, Germany, and Italy. The types of leather below represent a full array of leather skins, all used in luxury shoe production, and they differ in terms of 'look' and 'texture.'
Painted Calf Leather: Crust calf leather (painted calf) enables artisans to hand-paint the pieces with special creams and brushes, giving them a very artisanal look. The source is Conceria Tolio from Italy (the same crust material used by Santoni, Berlutti, and Andres Sendra, among many others). 
Box calf is primarily distinguished by its fineness, flexibility, and grain. Box Calf Leathers are hand-painted by our artisans.
Calf Suede: Also called 'Suede' or 'Lux Suede,' resulting in a softer and more supple texture, often resembling a 'furry nap.'
Kid Suede: Kid Suede is the softest, velvety suede leather derived from goat skins. 
Polished Calf: The look is not as natural as plain grain but has a luxurious appearance. This type of leather is quite expensive due to the post-production processes required at the tannery. Polished Calf Leathers are hand-painted by our artisans.
Patent Leather: A type of leather finish in which the surface is treated to create a highly glossy, shiny appearance.
Nubuck Leather: Lightweight and supple, Nubuck leather is made from the outer layer of the hide, with the surface buffed to give it a light velvety finish called a 'nap.'
Sartorial Materials: We offer various sartorial fabrics, including flannels and velvets, with patterns like Tweed, Plaid, Tartan, Herringbone, Leopard, etc. Mixing these sartorial materials with classic hand-painted leather in a shoe can result in genuinely astonishing designs.
Exotic Skins
We offer genuine exotic skins in our AN Design Lab, including Alligator, Python, and Ostrich skins, which can be matched with our painted calf base colors.
Alligator Genuine Skin: "Alligator mississippiensis" is a beautiful and fashionable leather. The leather is strong, supple, durable, and very expensive. A bony layer within the skin adds a protective shield, while a dimple on each scale creates a highly exotic look.
Ostrich Genuine Skin: Ostrich leather is one of the finest and most durable leathers, well-known for its softness, flexibility, and durability. Despite its softness, Ostrich leather is unsurpassed in tactile strength. It is one of the strongest leathers available, thanks to naturally occurring oils that prevent cracking even under extreme temperatures and sun exposure. The main distinguishing feature of ostrich leather is the quill or feather socket markings, with the 'full quill' area being the most sought-after and, therefore, the most expensive type of ostrich leather.
Python Genuine Skin: Snakeskins are desirable for shoes due to their unique grain, scales, and color patterns.  
Embossed leather: is leather that features raised or indented patterns created through stamping or pressing. It serves both decorative and functional purposes, enhancing aesthetics and providing texture or grip. This customized approach allows you to add a unique style to your leather products, making them more appealing. We work closely with the leather company and provide resources to our Italian manufacturer.
Vegan leather: also known as synthetic or faux leather, is a cruelty-free alternative to traditional animal leather, used in various products like shoes. Common materials for vegan shoe leather include polyurethane (PU), polyvinyl chloride (PVC), microfiber, Piñatex (made from pineapple leaves), mushroom leather (mycelium), and cork leather (from cork oak bark). These materials mimic the look and feel of real leather. Vegan leather appeals to those following a vegan lifestyle or concerned about animal welfare and environmental impacts, offering ethical and sustainable options for stylish footwear and fashion items. The general texture, durability, and lightweight nature of vegan leather can vary based on material composition and manufacturing methods. The vegan shoes we created are lightweight and very comfortable.
In Summary: 
Alexander Noel utilizes premium leather textures and fabrics. What sets our process apart is the ability to purchase ready-made designs online or to collaborate with our skilled artisan team to craft your personalized footwear. We are committed to ongoing exploration, research, and innovation in texture development, ensuring the creation of the most fashionable shoes and boots for the future.